BEYOND BLACK MESA - ONLINE RELEASE | FRIDAY | JANUARY 21, 2020
JANUARY 17, 2020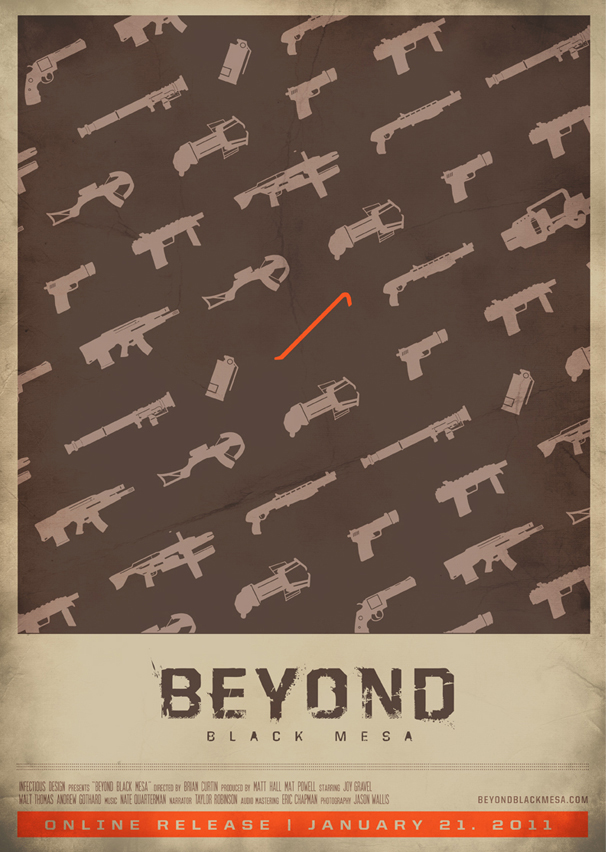 Once again, thanks to everyone for being patient. It's great to have such a big fan base interested in our passion project "Beyond Black Mesa. We'll be releasing the full short film on youtube this Friday and we really hope you enjoy it!
Did you see the BBM article printed in The Valve Issue of PC Gamer?
DECEMBER 1, 2020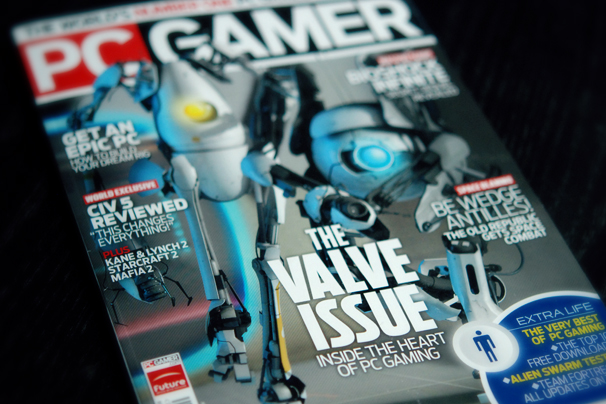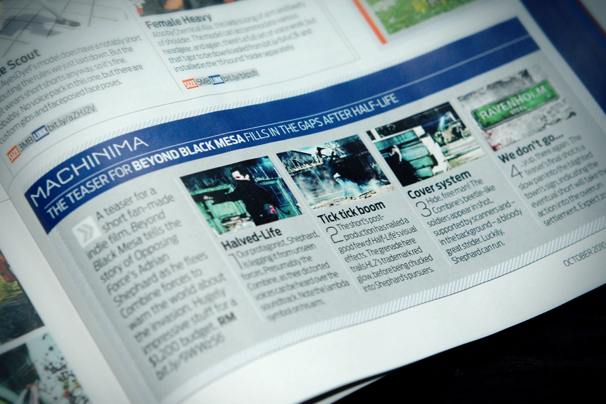 Thanks everyone for being patient. The full short film will be online soon enough. Just finishing up a few things and getting ready for the release. This is old news but here's a pic of a little snippet about BBM printed in The Valve Issue of PC Gamer. Sweet!
Also, I'm curious to know… if we began a Kickstarter project for an original sci-fi/action short, Would you donate to help us make it awesome!
RECOVERING FROM SIDEWALK FILM FEST & WHAT'S NEXT!
OCTOBER 8, 2020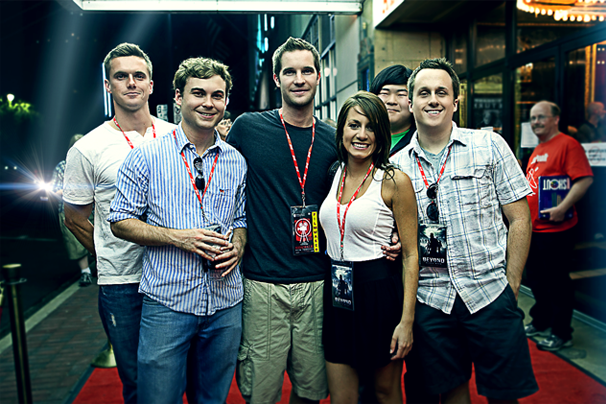 Thanks to everyone who came out to see the film! We had an awesome crowd and a great response…couldn't ask for more. If you missed Sidewalk Film Festival this year make sure you mark it on your calendar for next year. It's one of the most exciting and cultural events in Birmingham.
Here's what's on the Radar:
* We are in the process of submitting to a few more film festivals and we will update you with the details so you can see the film if it's showing near you.
* A full trailer of awesomeness should be released in the next month. Get excited!
* I was recently informed that BBM was featured in the UK PCgamer magazine.Very cool, if anyone has seen it please send me a photo of the spread, please!
BEYOND BLACK MESA AT 2010 SIDEWALK FILM FESTIVAL
AUGUST 27,2020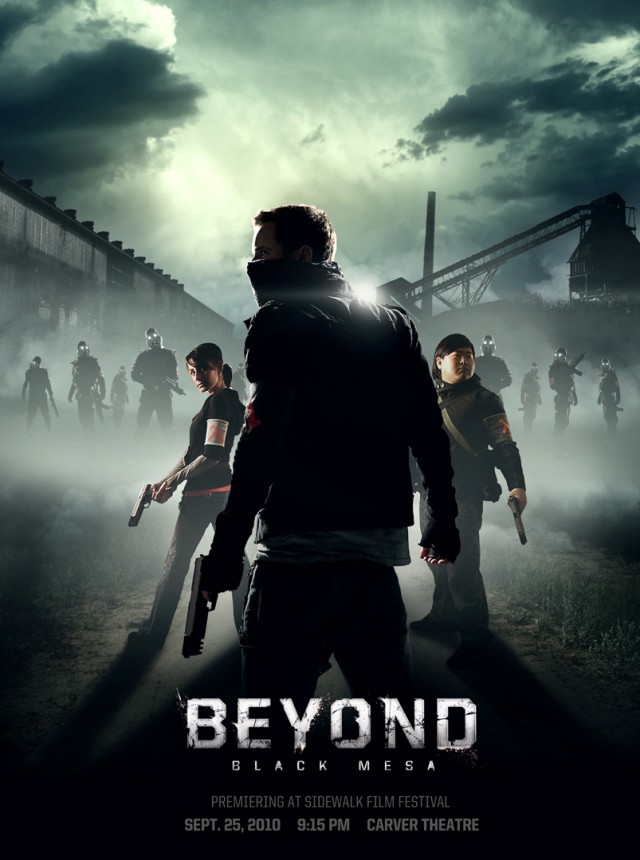 Beyond Black Mesa is scheduled to show at 

Carver Theatre

on

Saturday, September 25th
at
9:15pm
.
You can get your tickets here.
For additional information, visit the official Sidewalk Moving Picture Festival website
OR
Visit our fan page on Facebook to join the event.
Lastly, don't miss the parties. Trust us.
See you there.
Beyond Black Mesa wins BEST SCIENCE FICTION award at 2010 AOF Festival
AUGUST 13, 2020
Beyond Black Mesa screened at the acclaimed Action on Film Festival on July 26th in Pasadena, CA.
The film had been nominated along with 4 others in the Best Science Fiction category…
…And won!
The fact that "award-winning" has become a prefix to the film is an outstanding achievement. Keep up the great work, fans.
Beyond Black Mesa Goes To Sidewalk
JULY 29, 2020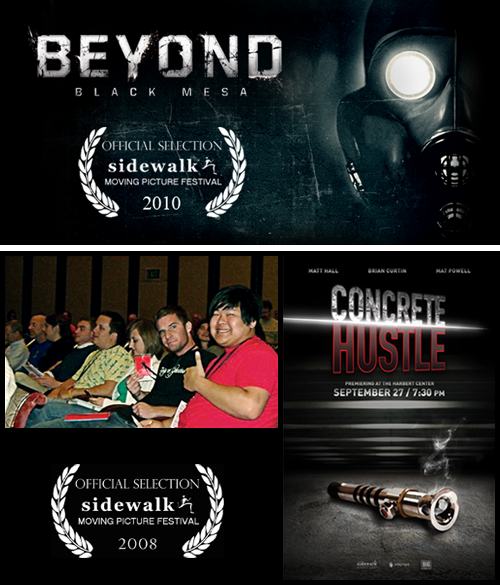 Ever since Concrete Hustle screened in the Sidewalk Film Festival back in 2008, the filmmakers knew that they would be back.
Beyond Black Mesa will officially be showing at the 12th Annual Sidewalk Moving Picture Festival.
Set to take place September 24-26, 2010, the BBM crew is honored and excited to be able to finally watch their hard work come together and play out on the big screen in front of friends, family and fans.  The viewing time and venue for Beyond Black Mesa is yet to be announced, but we will be sure to keep you posted.
Tickets go on sale August 1st, 2010.
For more information, visit the official Sidewalk Moving Picture Festival website.
Or follow both of us on Twitter
@sidewalkfilm
@beyondblackmesa
Keep your fingers crossed for a theatre big enough to hold everyone… we fully anticipate a packed house.
So mark your calendars. It's going to be an awesome weekend. We'll see you there.
Adrian Shephard Doesn't Do His Own Stunts
JULY 22, 2020
Here is a behind the scenes look at one of the many ways we narrowly avoided the emergency room during the making of Beyond Black Mesa.
At 1:01 of the teaser is the grenade explosion. The shot is modeled to look similar to the ripcord shot in MI:3. Our goal was to have the actor pulled up and out of the shot as quickly as possible.
ATTEMPT #1
Initially, we thought that we could put Brian in a waist harness, attach a rope, and have 3 crew members simultaneously pull him sideways. All we did was drag him across the gravel… four times. Epic FAIL.
After debate, discussion and complete disregard of caution, we decided that a vehicle would have enough torque to give us the pull we needed. Basic physics guaranteed success. Common sense gave us about a 50/50 chance of serious injury.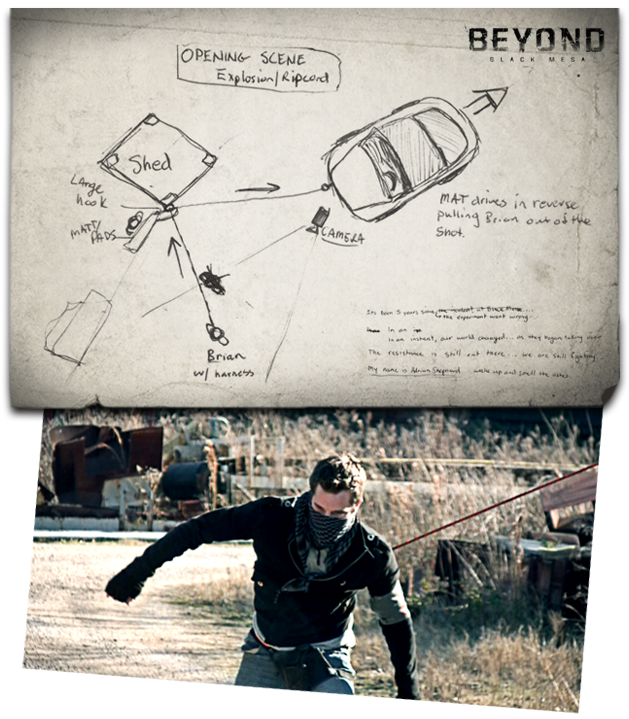 ATTEMPT #2
Now, we had the rope attached to the harness, which was fed through a large hook secured to the top of a 10ft metal shed. The rope was then tied to a tow hook, attached to the front of a car. We figured if we were going to do it, we better get it right the first time. We really wanted this shot to turn out great…
So we put slack in the rope…
counted to 3…
and threw the car in reverse.
How did that turn out? We'll let you know in our next post.
Beyond Black Mesa - Official Selection of AOF Fest
JULY 12, 2020 Action on Film Festival
July 23-30, 2010 Pasadena CA
A festival that prides itself on the dedication to filmmakers, we shouldn't have been surprised when AOF founder, Del Weston, took the time to personally congratulate Brian Curtin on his film's admission into the festival. Taken by surprise, Brian wasn't sure he had heard the news properly…
Sure enough, we confirmed that our film was accepted and scheduled to show alongside with already established prestigious names in the industry.
We'll even let you in on a little secret:
Sources indicate that there are a couple of award nominations for Beyond Black Mesa. Keep your fingers crossed.
Well, fans, it is no secret that the BBM crew made this movie with nothing but the hard earned money from their already existing full time jobs and an immense amount of hard work. This is precisely what makes the film so unique.
It is an honor to be showing at one of the most progressive film festivals in the nation. Action on Film has assisted a number of filmmakers in starting their careers, and is known for helping filmmakers gain the recognition and representation that they deserve.  Unfortunately, unless one of us wins the lottery, the BBM crew can only afford to support their film from Birmingham, while it shows that Monday, the 26th at 10pm in beautiful Pasadena, California.
We cannot thank Del Weston enough for providing us with this incredible opportunity. The festival allows us the ability to share our passion with thousands of others, who, in the very least, will surely applaud the end product of Beyond Black Mesa - an end product that creates opportunities to open up new beginnings. We hope to be able to meet you sometime soon, Del.